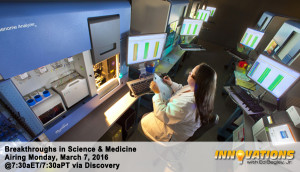 DMG Productions explores the latest breakthroughs in science and medicine.
Jupiter, FL— DMG Productions announced today the upcoming airing of Innovations with Ed Begley, Jr., scheduled to broadcast on Monday, March 7, 2016 at 7:30aET/7:30aPT via Discovery Channel
In this episode, Innovations will focus on the United States and Canadian Academy of Pathology (USCAP). Viewers will learn about USCAP's dedication to creating a better pathologist through its mission to provide the ultimate in continuing education and translational research to improve practices and patient outcomes.
Next, the show goes behind the scenes to learn about flow cytometry, which plays an essential role in the development of modern medicines. This segment will spotlight FlowMetric— experts in flow cytometry, and will teach about how cytometry is altering the face of clinical trials, providing scientists with an unprecedented insight into safety, drug action, and efficacy.
In addition, audiences will be educated on the world of biotechnology, as Innovations explores Delaware Biotechnology Institute, a place where scientific discoveries are pursued to address some of society's most pressing problems related to human health, agriculture, and energy and the environment.
"This episode is full of scientific exploration and discovery," said Michele Nehls, Senior Producer for the Innovations TV Series. "We look forward to enlightening audiences on these revolutionary advances taking place throughout the medical community."
About Innovations & DMG Productions:
Innovations, hosted by award winning actor Ed Begley, Jr., is an information-based series geared toward educating the public on the latest breakthroughs in all areas of society. Featuring practical solutions and important issues facing consumers and professionals alike, Innovations focuses on cutting-edge advancements in everything from health and wellness to global business, renewable energy, and more.
DMG Productions (responsible for creating the Innovations show) includes personnel specialized in various fields from agriculture to medicine, independent films to regional news and more. Our field producers work closely with experts in the field to develop stories. This powerful force enables us to consistently produce commercial-free, educational programming that both viewers and networks depend on.
For more information visit: www.InnovationsTelevision.com or contact Michele Nehls at: (866) 496-4065 x 822 or via email at: [email protected]