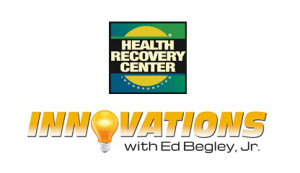 DMG Productions explores holistic solutions for substance abuse treatment.
Minneapolis, MN—Health Recovery Center announced that they will be featured in an upcoming episode of Innovations with Ed Begley Jr, airing later this year 2014, via Discovery Channel. Dates and show times TBA.
Innovations will explore Health Recover Center's holistic addiction treatment and alcohol recovery center, where drug-free treatment of alcoholism, chemical dependency, depression, and other emotional disorders goes beyond traditional counseling. Viewers will be educated on the program, which helps identify and correct the true physical underlying causes driving addictions, along with the many uncomfortable mental states that result from this unbalanced biochemistry.
"Health Recovery Center attracts clients from around the world, from Australia to Europe." Said Mark Mathews. "We first seek evidence of the underlying cause of addiction and mental illness through medical labs, and then correct the mistakes by restoring the brain to optimal wellbeing by following the 'blueprint of life'."
"Since 1981, Health Recovery Center's addiction recovery program has produced the highest success rates for drug treatment in the country," said Michele Nehls, producer for the series. "Innovations looks forward to educating the public on this program and its capabilities."
About Health Recovery Center:
Health Recovery Center treats alcohol and drug addiction and most mental health disorders following Nature's blueprint using the substances that supports life in all humans. (DRUGS CAN'T DO THIS).
For more information, visit: www.healthrecovery.com.
About Innovations and DMG Productions:
Innovations, hosted by award winning actor Ed Begley, Jr., is an information-based series geared toward educating the public on the latest breakthroughs in all areas of society. Featuring practical solutions and important issues facing consumers and professionals alike, Innovations focuses on cutting-edge advancements in everything from health and wellness to global business, renewable energy, and more.
DMG Productions (responsible for creating the Innovations show) includes personnel specialized in various fields from agriculture to medicine, independent films to regional news and more. Our field producers work closely with experts in the field to develop stories. This powerful force enables us to consistently produce commercial-free, educational programming, that both viewers and networks depend on.
For more information visit: www.InnovationsTelevision.com. You can also contact Michele Nehls at (866) 496-4065 x 822 or via email at: [email protected]