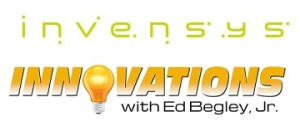 Exploring the latest advancements in industrial software.
Jupiter, FL—Innovations Television, hosted by Ed Begley, Jr., announced today that it will be highlighting Invensys in an upcoming episode, putting the spotlight on the importance of using industrial software solutions to solve some of the world's most pressing needs, particularly when it comes to manufacturing and bringing to market the necessities that improve life: food, clean water, and sustainable energy among them.
The evolution of software and automation technology facilitates greater real-time visibility and control across all aspects of a manufacturing enterprise. In this episode of Innovations, viewers will learn how oil refineries, power stations, mining companies, food and beverage suppliers, and water and wastewater operations are optimizing their operational performance, safety, environmental integrity, and profitability using real-time industrial software.
"The ability to monitor, control, and automate production processes, as well as to enable workers with better decision-making tools, can help companies achieve revolutionary levels of value, performance and profitability, but only if they are applied effectively and correctly," said Amanda Illingworth, Producer for Innovations. "Invensys has a deep understanding of their customers' industry and business needs, and we look forward to educating our audience on how their innovative technologies and services enhance performance and profitability across the entire plant lifecycle and full value chain."
Invensys, a global technology company, works in partnership with a broad range of industrial and commercial customers to design and supply advanced technologies that optimize operational performance and profitability. Their award-winning industrial brands include Avantis, Foxboro, SimSci, Triconex and Wonderware. The company works with 23 of the top 25 petroleum companies, 48 of the top 50 chemical companies and 18 of the top 20 pharmaceutical companies, to name but a few.
"We are at a unique point in the evolution of the industry," said Ravi Gopinath, president of Invensys' software business. "The global industrial market is poised for accelerated growth, driven by industrial software. Our customers have never had such breadth and depth of technology, solutions and capabilities at their disposal, especially when it comes to mobility solutions, Big Data and the Cloud. Embracing these new technologies provides plant personnel, managers and operators alike, with the real-time information they need to make faster, better business decisions in the right context and at the right time. With our market-leading stable of brands, industry expertise and global partnerships, Invensys is uniquely positioned to help customers enhance performance and profitability across the entire plant lifecycle and full value chain."
About Innovations:
Innovations, hosted by award winning actor Ed Begley, Jr., is an information-based series geared toward educating the public on the latest breakthroughs in all areas of society. Featuring practical solutions and important issues facing consumers and professionals alike, Innovations focuses on cutting-edge advancements in everything from health and wellness to global business, renewable energy, and more.
For more information visit: www.innovationstelevision.com or call (866) 496-4065.
About DMG Productions:
The DMG production team consists of producers, cameramen and editors that have worked for CNN, TLC, Discovery, and other major news and cable networks. Our staff includes personnel specialized in various fields from agriculture to medicine, independent films to regional news. Our field producers utilize the core concepts from our producers who storyboard our programs, and work closely with experts in the field to develop the educational programs. This powerful force enables us to consistently produce commercial-free, educational programming that both viewers and networks depend on.
Media Contact:
Amanda Illingworth / Producer
DMG Productions, LLC / Innovations
(866) 496-4065 x 850 / [email protected]