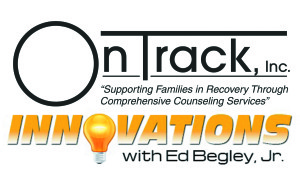 DMG Productions educates on programs and services addressing behavioral health.
Medford, OR─ OnTrack, Inc., announced today that they will be featured in an upcoming episode of Innovations, airing later this year 2015 on Discovery Channel.
In this segment Innovations will explore some of the programs offered by OnTrack, a recovery organization dedicated to addressing the mental, social, economic, and legal effects of addictive behavior.
Moreover, the show will educate viewers about OnTrack's youth services for children welfare.
"OnTrack provides treatment and related services regardless of an individual's ethnicity, religion, nationality, age, sexual preference or ability to pay," said Jake Meiteles, Producer for the Innovations series. "We look forward to enlightening our viewers about On Track and the treatment options available."
"Our efforts to strengthen preserve and reunify families changed the way we serve such children and families and is informing a statewide redesign of our child welfare system. We are excited to share our model as widely as possible so that other children do not have to suffer the trauma of removal from their families unnecessarily, said Rita Sullivan, Executive Director, OnTrack, Inc.
About OnTrack:
OnTrack offers a wide spectrum of clinical and support services to improve the lives of individuals and families. Its most significant work is being done in collaboration. The agency has been serving the needs of the region's most vulnerable families for over 45 years, and is a leader in developing model family centric programs designed to transform families into healthy, functioning entities that can raise children, reach their economic goals, and protect the well-being of all members in order to reduce the intergenerational transmission of abuse/poverty. For more information, visit: www.ontrackrecovery.org or contact Rita Sullivan via email at [email protected] or via phone at (541) 779-5093.
About Innovations and DMG Productions:
Innovations, hosted by award winning actor Ed Begley, Jr., is an information-based series geared toward educating the public on the latest breakthroughs in all areas of society. Featuring practical solutions and important issues facing consumers and professionals alike, Innovations focuses on cutting-edge advancements in everything from health and wellness to global business, renewable energy, and more.
DMG Productions (responsible for creating the Innovations show) includes personnel specialized in various fields from agriculture to medicine, independent films to regional news and more. Field producers work closely with experts in the field to develop stories. This powerful force enables DMG to consistently produce commercial-free, educational programming that both viewers and networks depend on.
For more information visit: www.InnovationsTelevision.com or contact Jake Meiteles at: (866) 496-4065 x 830 or via email at: [email protected]