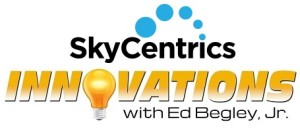 DMG Productions explores Smart Buildings and the latest advancements in building energy efficiency and asset management.
Novato, CA—DMG Productions announced SkyCentrics® has been selected to participate in an upcoming episode of Innovations with Ed Begley Jr. Dates and show times are TBA.
This segment will feature SkyCentrics®, a company that is developing WiFi-enabled devices that integrate information and communications technologies to deliver sustainable and predictive economic advantages to building operators, engage building occupants, and enhance the ability to effectively manage natural resources. SkyCentrics does this in an open and secure platform which uses technologies that include smart sensors, wireless networks, web portals, big data/analytics, mobile applications and other tools. The company's devices, cloud services and user interfaces help manage the needs of buildings, large and small. Viewers will learn about the existing high costs of current Building Mana¬gement Systems, which are generally cost-prohibitive for small to medium-sized buildings, and about how SkyCentrics® alters that equation by leveraging ubiquitous WiFi network infrastructures, affordable cloud services and user-owned smart devices.
"By bringing a cloud-based solution and WiFi connected sensor and control hardware to the 100 year old building management industry, we disrupt the high cost of managing buildings and give building owners and their service providers real-time information at their fingertips. We help building owners and operators monitor and control previously unmanaged spaces on their mobile devices, saving them time, money and preventing costly repairs," said Tristan de Frondeville, CEO of SkyCentrics. "We are honored to participate in the upcoming episode of Innovations with Ed Begley Jr. and present our innovative products and cloud services. With our thermostats, load controllers, smart plugs, sensor platforms and sub-meters, we focus on reducing operating costs, managing natural resources, engaging citizens, and improving the core mission of the building owner with live data for better decision making."
"The SkyCentrics® platform is the solution of the future for all buildings," said Robert Sikich, Senior Producer for the Innovations series. "We are excited to unveil this innovative information to our viewers."
About SkyCentrics®:
SkyCentrics, based in Novato, California, provides customers with easy to install wireless building sensors and control devices. SkyCentrics invented the SkySnap™ Load Controller, a wireless to wired hybrid platform that connects to traditionally wired sensors and controls enabling them to connect to the internet for easy remote access through phones, tablets and web applications. SkyCentrics aims to apply 21st century technologies to buildings to reduce their operating costs, lower their carbon footprint, and reduce their energy usage. Quality, Efficiency and Simplicity are SkyCentrics' mottos.
For more information, visit: www.skycentrics.com or call (415) 962-1500.
About Innovations:
Innovations, hosted by award winning actor Ed Begley, Jr., is an information-based series geared toward educating the public on the latest breakthroughs in all areas of society. Featuring practical solutions and important issues facing consumers and professionals alike, Innovations focuses on cutting-edge advancements in everything from health and wellness to global business, renewable energy, and more.
For more information visit: www.InnovationsTelevision.com or call (866) 496-4065.
About DMG Productions:
The DMG production team consists of producers, cameramen and editors that have worked for CNN, TLC, Discovery, and other major news and cable networks. Our staff includes personnel specialized in various fields from agriculture to medicine, independent films to regional news. Our field producers utilize the core concepts from our producers who storyboard our programs, and work closely with experts in the field to develop the educational programs. This powerful force enables us to consistently produce commercial-free, educational programming that both viewers and networks depend on.
Media Contact:
Robert Sikich / Senior Producer
DMG Productions, LLC / Innovations
(866) 496-4065 x 805 / [email protected]