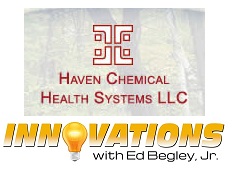 DMG Productions explores advancements in chemical dependency treatment services.
Woodbury, MN—Haven Chemical Health Systems, LLC announced that they will be featured in an upcoming episode of Innovations with Ed Begley Jr, airing later this year 2014, via Discovery Channel. Dates and show times TBA.
Innovations will explore Haven Chemical in this episode. Traveling to Woodbury, Minnesota, this segment will educate viewers on Haven Chemical's residential and outpatient chemical dependency treatment services.
"We're very excited to take part in a series that is devoted to education and breaking stereotypes. We look forward to the opportunity to help shape the way society views addiction and treatment," said John Henderlite, Executive Director, Haven Chemical Health Systems.
Lead by Minnesota State Licensed Alcohol and Drug Counselors, the program has seven locations including Shakopee, Waconia, and Cloquet, and also offers Case Management for those clients that need the additional service.
"For fourteen years, Haven Chemical Health Systems has been helping adult and adolescent patients seeking treatment services," said Michele Nehls, producer for the series. "I'm really looking forward to providing this vital information to our audience."
About Haven Chemical Health Systems:
Open since 2000, Haven Chemical Health offers several different types of substance abuse treatment. The company currently offers residential treatment for men and women with the women's programs focused on treatment for women by women, and outpatient programs for both men and women, both adult and adolescent as well as Case Management services as needed. Their focus is on individualized treatment based upon the 12-step modality.
For more information, visit: www.havenchemicalhealth.com.
About Innovations and DMG Productions:
Innovations, hosted by award winning actor Ed Begley, Jr., is an information-based series geared toward educating the public on the latest breakthroughs in all areas of society. Featuring practical solutions and important issues facing consumers and professionals alike, Innovations focuses on cutting-edge advancements in everything from health and wellness to global business, renewable energy, and more.
DMG Productions (responsible for creating the Innovations show) includes personnel specialized in various fields from agriculture to medicine, independent films to regional news and more. Our field producers work closely with experts in the field to develop stories. This powerful force enables us to consistently produce commercial-free, educational programming, that both viewers and networks depend on.
For more information visit: www.InnovationsTelevision.com. You can also contact Michele Nehls at (866) 496-4065 x 822 or via email at: [email protected]