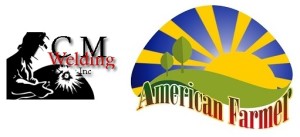 DMG Productions explores the latest innovations and advancements in manufacturing.
Frankfort, IN─ CM Welding Inc. announced today they will be participating in an upcoming episode of American Farmer airing second quarter 2014 on RFD-TV.
American Farmer will explore CM Welding's RPR Thrashing/Separating Concave System, which was developed for getting more capacity and less rotor loss in rotor combines. The show will educate viewers on standard rotor loss' and how CM Welding's RPR Thrashing/Separating Concave System results in a smaller net loss of product.
"Donnie Estes has been in the industry for over 50 years." said Charlie Cowan, Producer for American Farmer. "Don's manufacturing experience has helped bring innovative products like the RPR Thrashing/Separating Concave System to the American public and agriculturists alike. This amazing new piece of equipment is helping save farmers loss of product and money, and we are very excited to be able to educate our audiences on this new advancement to the industry."
About CM Welding:
Donnie owned and operated Estes Manufacturing in Flanagan, Illinois for 43 years. He retired in 2003 and in 2010 re-opened CM Welding Inc., with his wife Carolyn. Donnie received his first U.S. patent in 1995 with a product called "The Disrupter". The Disrupter was very popular but could only be used on Case IH rotors. In 2010 "The Disrupter" was designed for John Deere rotors along with the new RPR system and then patented in June of 2013.
For more information, visit: www.cmweldinginc.com or call 765-258-4024.
About American Farmer:
American Farmer is a breakthrough program on a mission to showcase the latest advancements in agriculture and farming. From seed to harvest, livestock and more, our producers have traveled the country covering the people, places and issues impacting all areas of farm country.
American Farmer airs Tuesdays at 8:30am ET on RFD-TV as well as Tuesdays at 12:30pm and Saturdays at 1:30pm ET on FamilyNet.
For more information visit: www.AmericanFarmerTV.com or call (866) 496-4065.
Media Contact: Charlie Cowan, Senior Producer
Phone: (866) 496-4065 x 875
Email: [email protected]