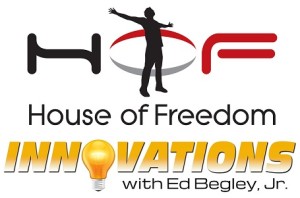 DMG Productions explores the world of substance abuse and recovery.
Orlando, FL—House of Freedom announced today they will be featured in an upcoming episode of Innovations with Ed Begley Jr, airing later this year 2014, via Discovery Channel. Dates and show times TBA.
House of Freedom (HOF) is dedicated to the rehabilitation of individuals afflicted with drug and alcohol dependency. For more than 22 years House of Freedom has worked successively in favor of people who suffer from addiction. The fruits of their work are evident in the many lives that have received restoration and words of consolation, thanks to their dedication.
This segment will educate audiences on the mission of House of Freedom, which is to provide each client the opportunity to achieve the highest physical, psychological, and spiritual well-being, using the principles of Care, Compassion, and Commitment.
"House of Freedom is looking forward to having the opportunity to educate the general public on what available services there are for substance abuse, while at the same time delivering the message that addiction does not have to be a life sentence. There is a cure!" said Orlando Vargas of House of Freedom.
"House of Freedom has been helping addicts and abusers overcome their addictions for over 22 years," said Michele Nehls, producer for the series. "They embrace change and continually seek way to help people improve. Everyone at Innovations is excited to showcase this special group of people."
About House of Freedom:
With more than 30 years of experience, House of Freedom is a residential and outpatient drug rehab center in Orlando Florida, which unlike traditional approaches to treat chemically dependent and dually diagnosed individuals, delivers drug treatment services that deal with the physical, mental, social, and spiritual component of addiction utilizing the most advance technology in the world. For more information, visit: www.houseoffreedom.com.
About Innovations:
Innovations, hosted by award winning actor Ed Begley, Jr., is an information-based series geared toward educating the public on the latest breakthroughs in all areas of society. Featuring practical solutions and important issues facing consumers and professionals alike, Innovations focuses on cutting-edge advancements in everything from health and wellness to global business, renewable energy, and more.
For more information visit: www.InnovationsTelevision.com or call (866) 496-4065.
About DMG Productions:
The DMG production team consists of producers, cameramen and editors that have worked for CNN, TLC, Discovery, and other major news and cable networks. Our staff includes personnel specialized in various fields from agriculture to medicine, independent films to regional news. Our field producers utilize the core concepts from our producers who storyboard our programs, and work closely with experts in the field to develop the educational programs. This powerful force enables us to consistently produce commercial-free, educational programming that both viewers and networks depend on.
Media Contact: Michele Nehls, Senior Producer
DMG Productions, LLC / Innovations
(866) 496-4065 x 822 / [email protected]