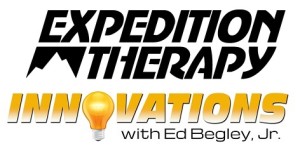 DMG Productions explores advancements in therapeutic outdoor adventures.
St. George, UT—Expedition Therapy announced that it will be featured in an upcoming episode of Innovations with Ed Begley Jr., airing later this year 2014, via Discovery Channel. Dates and show times TBA.
Expedition Therapy is an exciting, challenging therapeutic outdoor adventure experience designed for young adults, age 18 and up, who want to move forward in life. Innovations will explore Expedition Therapy's approach to providing participants with individualized therapy in the context of a backcountry skills and leadership course.
Audiences will be educated on Expedition Therapy's curriculum, which teaches the importance of hands-on learning and teamwork. Viewers will be amazed by Expedition Therapy's experienced team of therapists and mentors, who teach students a wide variety of useful skills applicable to their lives as young adults in today's world.
"We are extremely pleased to have the opportunity to present Expedition Therapy to a worldwide audience on Innovations with Ed Begley Jr.,� said Aaron Wilson, Expedition Therapy Founder and Executive Director. "When we created Expedition Therapy, we saw a tremendous need to help emerging young adults connect with their true potential and discover their unique direction in life, so that they can take their place in the adult world with a real sense of purpose.�
"Viewers will see for themselves how Expedition Therapy provides young adults with an intensive expedition-centered and relationship-based experience that focuses on hands-on learning, confidence-building and self-understanding,� added Beth J. Fogel, Expedition Therapy Founder, Primary Therapist and Creative Strategist. "Our objective is to put each student on the leading edge of his or her own own life.�
"Expedition Therapy is really helping individuals facing a challenging crossroads in their lives," said Michele Nehls, producer for the series." We look forward to airing this segment in hopes it will shed light on this experiential therapeutic experience, and help others to move forward in life."
About Expedition Therapy:
Expedition Therapy is a structured, intensive, hands-on, experiential, solution-focused outdoor adventure experience that unfolds in the etched mountain pathways, brilliantly carved canyons, and striking topography of the desert southwest. The Expedition Therapy Team specializes in working with emerging young adults age 18+ who have yet to find a productive and intentional path in life. Our Therapeutic Expedition Mentality® is an empowering option for adults who want to learn how to create a balance in their lives, stay sober, and reconnect with their authentic selves. The Expedition Therapy Team takes pride in the process of engagement and relationship building, providing unconditional acceptance in a culturally diverse setting. At Expedition Therapy, we help young adults discover the inner focus, direction and motivation they need to move themselves forward in their lives.
For more information, visit: expeditiontherapy.com.
About Innovations:
Innovations, hosted by award winning actor Ed Begley, Jr., is an information-based series geared toward educating the public on the latest breakthroughs in all areas of society. Featuring practical solutions and important issues facing consumers and professionals alike, Innovations focuses on cutting-edge advancements in everything from health and wellness to global business, renewable energy, and more.
For more information visit: www.InnovationsTelevision.com or call (866) 496-4065.
About DMG Productions:
The DMG production team consists of producers, cameramen and editors that have worked for CNN, TLC, Discovery, and other major news and cable networks. Our staff includes personnel specialized in various fields from agriculture to medicine, independent films to regional news. Our field producers utilize the core concepts from our producers who storyboard our programs, and work closely with experts in the field to develop the educational programs. This powerful force enables us to consistently produce commercial-free, educational programming that both viewers and networks depend on.
Media Contact:
Michele Nehls, Senior Producer
DMG Productions, LLC / Innovations
(866) 496-4065 x 822 / [email protected]