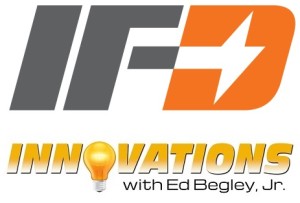 DMG Productions explores the latest advancements in utility power technology.
Vancouver, BC—IFD Corporation announced that they will be featured in an upcoming episode of Innovations with Ed Begley Jr, slated to air later this year. Dates and show times TBA.
IFD Corporation was formed to develop, with utility partners, a reliable low cost sensor that would be suitable for detection and indication of internal arcing faults in distribution transformers.
In this episode, the audiences will learn about the IFD sensor, which detects and indicates internal arcing faults in pole mounted and pad mounted distribution transformers and voltage regulators. The sensor releases a highly visible orange signal that informs line workers the transformer has an internal fault and needs to be replaced.
In addition to improving worker safety, the maintenance free IFD mechanical sensor provides set-it-and-forget-it operation and a typical 12:1 return on investment over the life of the transformer.
The team at IFD, from manufacturing to sales, is delighted to feature our unique and innovative product. We work hard every day to make sure our customers are satisfied with the product, our service and the business results they achieve. Featuring the evolution of the smart-grid with the IFD sensor at Innovations with Ed Begley Jr. is very cool. It demonstrates they know what they are doing, the IFD makes transformers intelligent and it will be for decades to come.
"IFD Corporation's low cost sensor delivers a practical solution for the distribution system of today's, and tomorrow's utilities," said Robert Sikich, producer for the Innovations series. "I'm excited to be able to educate our audience on this amazingly reliable technology."
About IFD Corporation:
IFD Corporation is a technology company serving the world's electric power utilities and their customers. Our steady growth over the past decade is due to the vision of engineers in our best utilities. And to recognize commitment to us, one of our goals is to be their best supplier. Utilities large and small like Manitoba Hydro, PG&E, San Diego Gas & Electric, Hydro Quebec, Southern Maryland Electric Coop, BC Hydro and hundreds of others are paving the way to a smarter, safer grid for their customers.
For more information, visit: www.ifdcorporation.com or call 604-734-0105.
About Innovations:
Innovations, hosted by award winning actor Ed Begley, Jr., is an information-based series geared toward educating the public on the latest breakthroughs in all areas of society. Featuring practical solutions and important issues facing consumers and professionals alike, Innovations focuses on cutting-edge advancements in everything from health and wellness to global business, renewable energy, and more.
For more information visit: www.InnovationsTelevision.com or call (866) 496-4065.
About DMG Productions:
The DMG production team consists of producers, cameramen and editors that have worked for CNN, TLC, Discovery, and other major news and cable networks. Our staff includes personnel specialized in various fields from agriculture to medicine, independent films to regional news. Our field producers utilize the core concepts from our producers who storyboard our programs, and work closely with experts in the field to develop the educational programs. This powerful force enables us to consistently produce commercial-free, educational programming that both viewers and networks depend on.
Media Contact:
Robert Sikich, Senior Producer / Innovations
(866) 496-4065 x 805 / [email protected]