D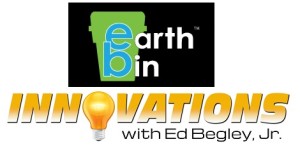 MG Productions explores the latest advancements in waste management.
Woodstock, Ontario— EarthBinTM announced today that they will be featured in an upcoming episode of Innovations with Ed Begley Jr, slated to air later this year, 2014 via Discovery Channel. Dates and show times TBA.
This episode of Innovations will focus on EarthBin's in-ground waste storage bins. Viewers will be amazed by their bins, which are buried over 1.8 meters (6 feet) below ground.
In addition, the show will educate viewers on EarthBin's ability to stay cool and odor-free. The waste in the EarthBin self-compacts under the weight of new garbage or recycling dropped into the bin, making it possible to store more trash/recycling in the bin (up to 6.5 cubic yards loose), requiring fewer collections.
"We are extremely excited to have the opportunity to educate viewers about the incredible advantages offered by simply placing waste below ground. If you think about it, people have been using the earth to store food products for centuries. The EarthBin will play a part to help to literally clean up our cities, reduce carbon emissions, control pests and beautify our landscape," said Dave Hallman, President of EarthBin.
When full, the EarthBin can be emptied in under a minute by a standard front load garbage truck, with no mess, no fuss, and minimal disruption to traffic or access.
"EarthBin is simple to use, durable, eco-friendly, and affordable," said Robert Sikich, producer for the series. "We are excited to showcase their product in this episode."
About EarthBin:
EarthBin is a Canadian company that is focused only on the development of innovative waste management systems that solve almost all of the current issues associated with the disposal of trash. Our products are manufactured exclusively in North America for the North American market. EarthBin is the first in-ground front load container that has been installed across Canada in a wide variety of market sectors.
For more information visit: www.earthbin.com or call (844) 213-2467.
About Innovations:
Innovations, hosted by award winning actor Ed Begley, Jr., is an information-based series geared toward educating the public on the latest breakthroughs in all areas of society. Featuring practical solutions and important issues facing consumers and professionals alike, Innovations focuses on cutting-edge advancements in everything from health and wellness to global business, renewable energy, and more.
For more information visit: www.InnovationsTelevision.com or call (866) 496-4065.
About DMG Productions:
The DMG production team consists of producers, cameramen and editors that have worked for CNN, TLC, Discovery, and other major news and cable networks. Our staff includes personnel specialized in various fields from agriculture to medicine, independent films to regional news. Our field producers utilize the core concepts from our producers who storyboard our programs, and work closely with experts in the field to develop the educational programs. This powerful force enables us to consistently produce commercial-free, educational programming that both viewers and networks depend on.
Media Contact: Robert Sikich, Senior Producer / Innovations
(866) 496-4065 x 805 / [email protected]