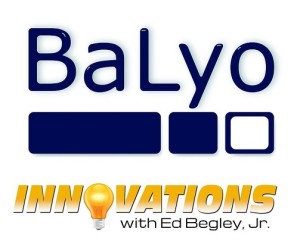 Exploring the latest advancements in warehouse technology.
New York, NY —Balyo announced today that they would be featured in an upcoming episode of Innovations, hosted by Ed Begley Jr.
This particular episode will showcase the moveBox, created by Balyo. This is the first of its kind on the materials handling market. Innovations viewers will learn about the moveBox' integrated Geoguidance technology, which allows for the guidance and automation of electric vehicles: pallet jacks, tractors, stackers, or reach trucks.
"The industry had been looking for a robust, simple, and cost effective solution; the acceptance of this technology is overwhelming" said Raul Bravo, Balyo co-founder.
"With the moveBOX and the Geoguidance technology, the electric pallet truck can navigate autonomously, and pick-up and drop-off pallets without human intervention. This amazing technology creates a streamlined and predictable environment" said Amanda Illingworth, Senior Producer for the series. "Innovations is excited to share this information with our viewers."
About Balyo:
Balyo is a technology-driven company focused on delivering value to the materials handling industry through the automation of electric forklifts. It has experienced rapid growth since its creation, as its customers are quickly adopting the technology in Europe, and early tests point to the same in the United States.
For more information, visit: www.balyo.com or call (617) 778-6828.
About Innovations:
Innovations, hosted by award winning actor Ed Begley, Jr., is an information-based series geared toward educating the public on the latest breakthroughs in all areas of society. Featuring practical solutions and important issues facing consumers and professionals alike, Innovations focuses on cutting-edge advancements in everything from health and wellness to global business, renewable energy, and more.
For more information visit: www.InnovationsTelevision.com or call (866) 496-4065.
About DMG Productions:
The DMG production team consists of producers, cameramen and editors that have worked for CNN, TLC, Discovery, and other major news and cable networks. Our staff includes personnel specialized in various fields from agriculture to medicine, independent films to regional news. Our field producers utilize the core concepts from our producers who storyboard our programs, and work closely with experts in the field to develop the educational programs. This powerful force enables us to consistently produce commercial-free, educational programming that both viewers and networks depend on.
Media Contact:
Amanda Illingworth / Senior Producer
DMG Productions, LLC / Innovations
(866) 496-4065 x 850 / [email protected]