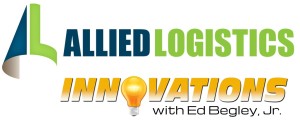 DMG Productions to explore the latest advancements in warehousing and logistics
Huntington, WV—Allied Logistics announced today that they would be featured in an upcoming episode of the Innovations television series.
In this episode, Innovations will showcase Allied Logistics, a family owned and operated business with over 100 years of history, known for its full range of global logistics services. Viewers will learn about Allied's sustainable warehousing and distribution systems offered through its facilities throughout the Mid-Atlantic region of the United States. Audiences will be amazed by their well-established national reputation for chemical manufacturing, storage and handling. As well as by the unique ways Allied's services help their own customers meet their sustainability goals. Innovations will explore Allied's continued dedication to customer needs through innovative, hands-on solutions to meet material logistics challenges.
"What began as a small family business in Huntington, West Virginia has evolved into a family of companies, a century old and four generations strong," remarked Rebecca Polan, president of Allied. "Allied Logistics is, today, a global logistics company that remains committed to the communities in which we operate, to our business partners, and to the logistics industry. By being featured on Innovations, we look forward to sharing the innovative practices and standards we employ, which are helping to shape the logistics industry of the future."
"Since their inception over 100 years ago, Allied Logistics has stood by its founding values of quality service, integrity, and innovation," said Amanda Illingworth, producer for Innovations. "I am looking forward to educating audiences about Allied's innovative services and remarkable logistics expertise.
About Allied Logistics:
Allied Logistics, operated originally as Allied Warehousing Services, Inc., entered the warehousing business in 1970 when its parent company, Allied Realty Company (founded in 1922), acquired a 100,000-square-foot, multi-floor warehouse. The company has grown to operate more than 2 million square feet of public and contract warehousing with nine facilities in the central and western areas of West Virginia and western Virginia. As the company grew, Allied Logistics was created to consolidate many of the services that had preceded it, including Allied Transportation Services Company, Reo Distribution Services and Allied Processing Services..
For more information, please visit: www.alliedlogistics.com.
About Innovations:
Innovations, hosted by award winning actor Ed Begley, Jr., is an information-based series geared toward educating the public on the latest breakthroughs in all areas of society. Featuring practical solutions and important issues facing consumers and professionals alike, Innovations focuses on cutting-edge advancements in everything from health and wellness to global business, renewable energy, and more.
For more information visit: www.innovationstelevision.com or call (866) 496-4065.
About DMG Productions:
The DMG production team consists of producers, cameramen and editors that have worked for CNN, TLC, Discovery, and other major news and cable networks. Our staff includes personnel specialized in various fields from agriculture to medicine, independent films to regional news. Our field producers utilize the core concepts from our producers who storyboard our programs, and work closely with experts in the field to develop the educational programs. This powerful force enables us to consistently produce commercial-free, educational programming that both viewers and networks depend on.
Media Contacts:
Amanda Illingworth, Producer
DMG Productions, LLC / Innovations
(866) 496-4065 x 850 / [email protected]
Rebecca Polan, President
Allied Logistics
540-256-1784 / [email protected]