DMG Productions explores advancements in constipation relief for children.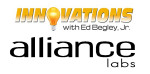 Phoenix, AZ—Alliance Labs announced that they will be featured in an upcoming episode of Innovations with Ed Begley Jr, airing later this year 2014, via Discovery Channel. Dates and show times TBA.
In this episode, Innovations will explore DocuSol® Kids, a mini-enema containing a delivered dose of 100mg docusate sodium in polyethylene glycol base designed to give adolescents general constipation relief. Viewers will learn about how the formulation functions as a hyperosmotic laxative by drawing water into the bowel from surrounding body tissues, and will be educated on DocuSol® Kids' ability to provide fast, predictable results, typically in 2-15 minutes.
"Twenty five to thirty percent of young children suffer from constipation and research shows that children with chronic constipation have a worse quality of life than those with more serious medical conditions,2" said Amy Powers, CEO for Alliance Labs, LLC, the manufacturer of DocuSol® Kids.
"DocuSol® Kids provides the most natural replicated bowel movement of all bowel care products on the market today," said Ryann Watkin. "Innovations looks forward to educating our viewers on the importance of this product."
About Alliance Labs, LLC:
Alliance Labs offers the highest quality incontinence products to the federal government, national pharmaceutical wholesalers, retailers and healthcare providers across the country. Alliance Labs is the exclusive distributor of the Enemeez® and DocuSol® product lines. As a staff we research and pursue product lines designed to improve the lives of the patients we serve.
For more information on DocuSol® Kids please visit www.docusolkids.com.
About Innovations and DMG Productions:
Innovations, hosted by award winning actor Ed Begley, Jr., is an information-based series geared toward educating the public on the latest breakthroughs in all areas of society. Featuring practical solutions and important issues facing consumers and professionals alike, Innovations focuses on cutting-edge advancements in everything from health and wellness to global business, renewable energy, and more.
DMG Productions (responsible for creating the Innovations show) includes personnel specialized in various fields from agriculture to medicine, independent films to regional news and more. Our field producers work closely with experts in the field to develop stories. This powerful force enables us to consistently produce commercial-free, educational programming, that both viewers and networks depend on.
For more information visit: www.InnovationsTelevision.com. You can also contact Ryann
Watkin at (866) 496-4065 x 813 or via email at: [email protected]
1 Chronic constipation easy to overlook, hurts children, Published: Monday, October 15, 2012, 8:00 PM. http://www.cleveland.com/healthfit/index.ssf/2012/ 10/chronic_constipation_easy_to_o.html