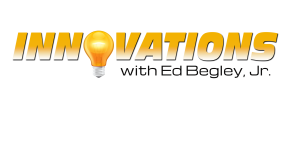 Exploring some of the latest advancements in technology.
Jupiter, FL—DMG Productions proudly announces an upcoming episode of Innovations with Ed Begley Jr, which will air on Sunday, September 29, 2013 at 5:30 p.m. EST on Fox Business.
Innovations viewers will learn about four different organizations and the technologies that set them apart in the industry.
In this episode, Innovations travels to St. Louis, Missouri to explore Graybar PowerSmart® and their complete offering of energy-saving solutions that help facility owners reduce costs and meet environmental Goals.
Innovations will showcase Zodiac Seats, a subsidiary of Zodiac Aerospace. The Zodiac Seats US Division offers a comprehensive range of products, including economy, business, and first class passenger seats. Viewers will learn about how Zodiac Seats' designs and assembles innovative, personalized, and high-added-value products.
This episode will also inform audiences that analog audio is still very much alive as they take a look at the technology behind Ortofon's phonograph cartridge production, and the art and science used in the cartridge manufacturing process.
In addition, spectators will learn about TyMetrix, the global market leader in delivering intelligent software and service solutions. Onlookers will be blown away by TyMetrix's LegalVIEW™, which provides predictive and analytical models, benchmarking insights for legal departments, claims organizations, and law firms to gain a better understanding of their operational strategies and teaches them how to reshape their business to gain a competitive advantage.
"This episode of Innovations is jam-packed with information surrounding some of the most amazing advancements in technology," said Chad Densen, Production Manager for the series. "We are so excited to entertain and enlighten our viewers on these recent advancements!"
About Innovations:
Innovations, hosted by award winning actor Ed Begley, Jr., is an information-based series geared toward educating the public on the latest breakthroughs in all areas of society. Featuring practical solutions and important issues facing consumers and professionals alike, Innovations focuses on cutting-edge advancements in everything from health and wellness to global business, renewable energy, and more.
For more information visit: www.innovationstelevision.com or call (866) 496-4065.
About DMG Productions:
The DMG production team consists of producers, cameramen and editors that have worked for CNN, TLC, Discovery, and other major news and cable networks. Our staff includes personnel specialized in various fields from agriculture to medicine, independent films to regional news. Our field producers utilize the core concepts from our producers who storyboard our programs, and work closely with experts in the field to develop the educational programs. This powerful force enables us to consistently produce commercial-free, educational programming that both viewers and networks depend on.
Media Contact:
Chad Densen, Production Manager / Innovations
(866) 496-4065 x 801 / [email protected]